Global Exposure & Experience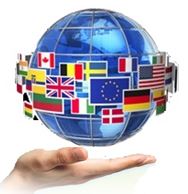 Have you always dreamt of studying, living and working in a different country? Perhaps you have a desire to try out the university experience in a culture that is different from your background. Studying abroad is an opportunity that puts the world right in your hands. The student does not only pursue academic aspiration but also the privilege to get abreast with this evolving global world.

Some institutions help develop global outlook by creating opportunity to participate in one semester exchange program with other partnering international institutions, where the student relocate to another country to study for six months or up to a year.

Having international exposure not only broadens your horizons, it equips you with a unique understanding and skill-set that is highly sought-after and broadens your appeal to a very wide group of potential employers. It will increase your standing by strengthening your personal creditability and marketability as well as giving you an extensive base of knowledge and experience to draw on. Spending time to study internationally can also help to demonstrate great flexibility in dealing with cultural differences and that you place a high value on your own skills development to any future potential employers. It shows you have the ability to adapt to diverse workplaces, perform well under pressure and can step outside your comfort zone to pursue career advancement beyond your own shores.
International exposure will definitely boost personal portfolio and this can accelerate your promotion prospects, lead to enhanced reward packages and career development as one tends to face a myriad of challenges in a shorter timescale than in an equivalent local environment. Having these broader values allows you to build up the sensitivity and necessary skills to operate in an international landscape. This can not only make you better at your own job but also make you more aware of how others work which is ultimately 'invaluable' for your future development. Global experience and exposure is the perfect way to stand out from the crowd in an increasingly competitive human-capital market and this transformative experience is all within your reach.